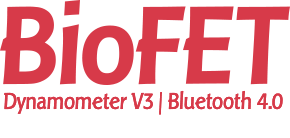 Spierkracht meten, nu makkelijk en accuraat
Ben jij klaar voor de nieuwe manier van spierkracht meten?
BioFET registreert de isometrische spierkracht die de behandelaar of onderzoeker bij de patiënt meet en de tijd (duur) dat de piekkracht wordt bereikt. Daarna stopt de meting en toont de BioFET de maximale kracht in Newtons of Kilogrammen of in Ponden.
Lees verder